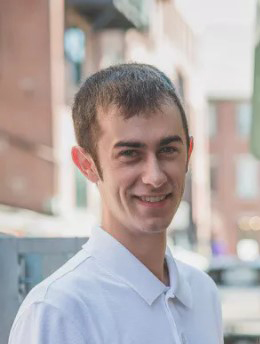 Evan Flynn, PT, DPT
Evan earned his Doctorate in Physical Therapy (DPT) at Ithaca College in New York. Following graduation, he worked at outpatient physical therapy clinics on both coasts, first practicing in his home state of Maine and then in Monterey, California. Evan decided to return to New England and wisely chose Vermont as his new home state. As a physical therapist, Evan strives to provide compassionate, evidence-based treatment to all of his patients, helping them improve their function and mobility while reducing any pain and discomfort. He is one of the most caring PTs you could ever hope to meet.
Keeping our body balanced through our vestibular system is a complex interaction of sensory information received through our eyes, inner ear, and the somatosensory receptors in our extremities. Dizziness and balance issues usually involve some vestibular component. Evan has expertise in evaluating problem areas and designing a customized vestibular and balance rehabilitation program that helps patients with vestibular-related dysfunctions such as vertigo and dizziness, gaze instability, balance and walking difficulties, and falls. Vestibular therapy can include a wide array of treatment components such as ambulation training and habituation and balance exercises. Through vestibular rehabilitation, patients can feel better and perform daily activities for self-care, work, and recreation successfully, safely, and without anxiety. Evan is also knowledgeable in the evaluation and treatment of a variety of spinal conditions and other orthopedic issues. He has worked with a wide variety of patients who require post-surgical rehabilitation and has helped them reach their personal goals.
Evan enjoys the practice of TLPT because of its enthusiastic, personal, and intensive one-on-one approach to patient care where the goal is to maximize every visit for optimal results and to achieve steady, measurable progress. He also appreciates our team approach and the input from other therapists as well as the emphasis on continuing education and incorporating new evidence-based treatment modalities that could potentially benefit our patients.
Evan stays active in a variety of outdoor activities including hiking, running and skiing. Since the first day that he moved to Vermont, Evan has taken full advantage of Vermont's natural resources and everything that the Green Mountain State has to offer.