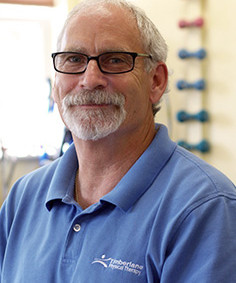 Stephen Rambur, PT
Experience:
Steve has close to three decades of experience in physical therapy. He worked with Chicago-area orthopedic physicians developing conservative orthopedic treatments, establishing total joint replacements protocols, and treatments for members of the Chicago Ballet and local school and sports teams. He established low back and cervical rehabilitation programs and a "return to work program" with area neurologists for post-surgical back patients and pre and post-surgical programs for young adults with scoliosis.
Specialties:
Although Steve has an extensive and diverse background in orthopedics, Steve is TLPT's go-to "shoulder man." He also has a strong interest in working with pre- and post-operative shoulder patients, regularly attending the annual Boston Shoulder Institute conference and keeping up to date on the latest surgical advances in shoulder reconstruction/replacement and rotator cuff repairs. His recent focus has been conservative treatments for joint preservation in the aging population, a group that all of us eventually get to join!
Education and Credentials
Steve graduated from Northwestern University with a Bachelor's degree in Physical Therapy, and thereafter earned a Master's in Business from the University of Mary in North Dakota. He is an active member of the American Physical Therapy Association (APTA).
Hobbies:
In his free time, Steve enjoys working with his hands, especially building and carpentry. He also rides motorcycles, and enjoys leading scouts on all sorts of fun adventures such as whitewater rafting and hiking.